Perfect Eyebrow Stamp Kit
iMethod brow stamp and shaping kit instantly outlines, defines & fills in your brows no matter how much (or little) hair you have.
The long-lasting, buildable formula glides on smoothly to skin and hair and allows time for blending before drying down completely to a matte finish.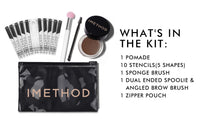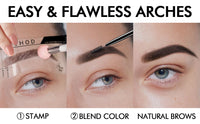 FLAWLESS & SYMMETRICAL BROWS
Hi Beautiful,
Are you struggle with perfecting your brows?
iMethod Eyebrow Stamp Stencil Kit will be your dream.
iMethod will show you how easy it is to create better-looking eyebrows with iMethod Brow Stamp and Shaping Kit.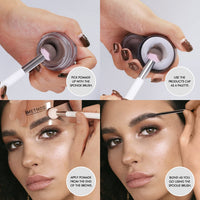 How To Use Your New Brow Stamp Kit, Step-By-Step:
Step1: Pick pomade up with the sponge brush
Step2: Use the products cap as a palette
Step3: Apply pomade from the end of the brows
Step4: Blend as you go using the spoolie brush
Pro Tips
1. Since the product is highly pigmented, a little goes a long way.
2. Remember to keep the cap sealed so that the waterproof formula doesn't dry out. If the eyebrow pomade needs to be refreshed, add a drop of Castor Oil (NOT INCLUDE).
3. You may also use concealer (NOT INCLUDE) in your shade to help create a more defined and sharp brow by carefully cleaning underneath as well as above your brow