`
America's #1 EASY&QUICK BROW BRAND
Moms meet& IMETHOD
With so many products on the market, it's not always easy to choose the best options. That's why we need our Mom Ambassadors and Blog Ambassadors in exchange for their honest opinions.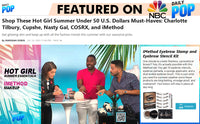 iMethod Beauty
daily pop
Shop These Hot Girl Summer Under $50 Must-Haves
Keep up with all the fashion trends this summer with our seasonal picks.
Show Us Your @iMethodBeauty Style
Tag #imethodbeauty on your instagram posts for the chance to be featured.